Rehabilitation of Firehall Bridge in Millbrook and Draft Traffic Staging Plan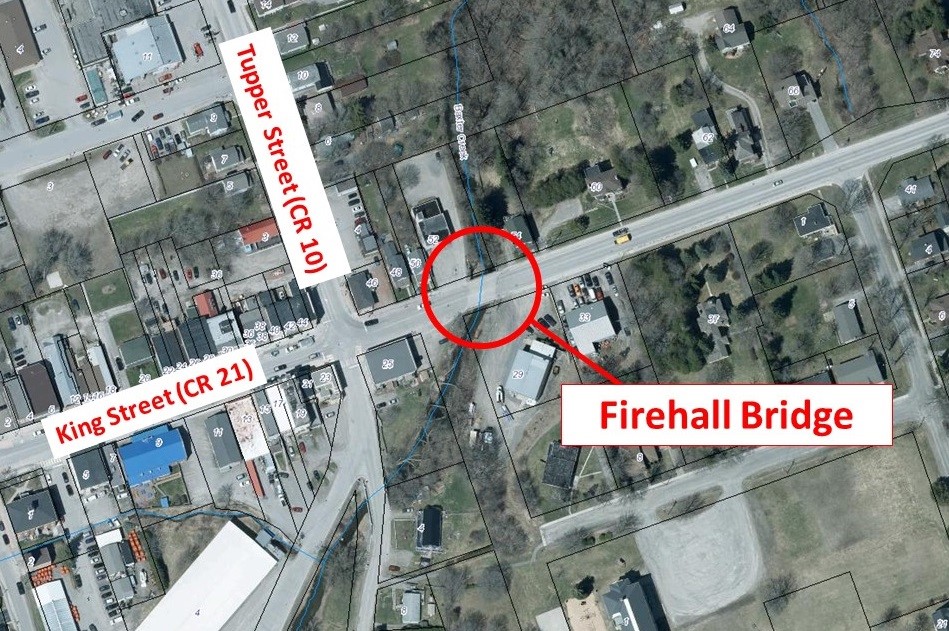 The County of Peterborough is preparing for the rehabilitation of Firehall Bridge in 2022, located on County Road (CR) 21 (King Street East) in the settlement area of Millbrook. Following the Municipal Class Environmental Assessment process as a Schedule A+ undertaking, public input is invited for incorporation into the planning and design of the project.
The projected timelines for construction includes a tentative start date of June 1, 2022, with completion anticipated by October 31, 2022, subject to weather constraints and other factors.
Due to the nature and extent of the rehabilitation required to various elements of the bridge, single traffic lane restrictions will be in place for an extended period of time. A copy of the preliminary traffic management plan and other project information is available on the County website at:
Notices of Construction - County of Peterborough (ptbocounty.ca)
Please also see the Draft Traffic Staging Plan
Staff from the County and Project Lead Consultant are available to respond to any questions. Please contact the following individuals for any additional information:
Troy Steele, P.Eng.
Senior Structural Engineer
D.M. Wills Associates Limited
150 Jameson Drive
Peterborough, ON, K9J 0B9
Phone: (705) 742-2297 ext. 225
Email: tsteele@dmwills.com
Peter Nielsen, C.E.T.
Manager, Capital Projects
County of Peterborough
Planning & Public Works Department
310 Armour Road
Peterborough, ON, K9H 1Y6
Phone: (705) 775-2737 ext. 3200
Email: Pnielsen@ptbocounty.ca