Notice of Public Meeting: Minor Variance Application MV-03-23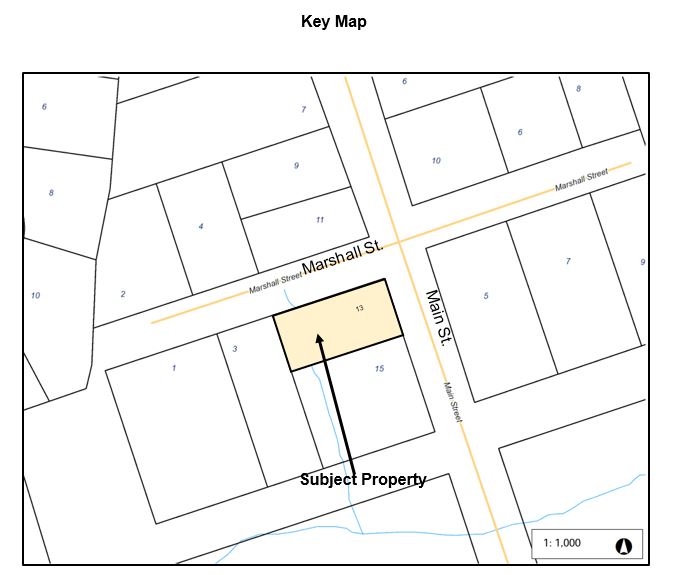 Take Notice that the Council of the Township of Cavan Monaghan will hold a public meeting of the Committee of Adjustment to consider a proposed minor variance under Section 45 of the Planning Act, R.S.O. 1990, as amended.
Date and Time: Thursday, June 1, 2023 at 9:00 a.m.
Location of 13 Main Street (Millbrook)
Subject Lands: Township of Cavan Monaghan
Property Roll Number: 1509-020-010-173 00
The lands subject to the minor variance application are shown on the key map and the purpose and effect of the proposed variance and additional details are provided in the Notice of Public Meeting.
Any person may attend the electronic/virtual public meeting and make written and/or verbal submissions either in support of or in opposition to the proposed minor variance.
If you wish to speak to the application at the public meeting, please contact the Deputy Clerk by email at ktkalec@cavanmonaghan.net no later than 4:00 p.m. on Wednesday, May 31, 2023 and you will be provided with an invitation to join the meeting using your computer or phone. The Township is using Zoom for electronic meetings and it is the responsibility of the interested member of the public to have technology in place to connect to the meeting.
Although possible for members of the public to "attend" a meeting electronically, and provide verbal submissions, we would encourage you to communicate with the Committee by forwarding written comments in support or opposition to ktkalec@cavanmonaghan.net.
If you wish to view the public meeting in real time, but do not wish to speak to the application, the meeting will be hosted on the Township YouTube Channel at:
https://www.youtube.com/channel/UCk8cGK2GvckFHWz_9_KaleQ?view_as=subscriber
The meeting will also be recorded and available after the meeting for public viewing on the same platform.
If you are aware of any person interested in, or affected by this application who has not received a copy of this Notice, you are requested to inform that person of this hearing.
If you wish to make written comments on this application, your comments must be forwarded to the Deputy Clerk by e-mail to ktkalec@cavanmonaghan.net no later than 4:30 p.m. on Wednesday, May 31, 2023.
If you fail to participate in the hearing and/or submit written comments, the hearing will proceed in your absence and, except as otherwise provided in the Planning Act, you will not be entitled to any further notice of the proceedings.
Related Applications
There are no other Planning Act applications related to the subject property at this time.
Dated at the Township of Cavan Monaghan this 19th day of May, 2023.
Karlie Cornish-Tkalec, Deputy Clerk
Township of Cavan Monaghan
705-932-9324