As of 12:01 a.m. April 8th, 2021 a province-wide declaration of emergency and a stay-at-home order are in effect. The walking track will remain closed until further notice.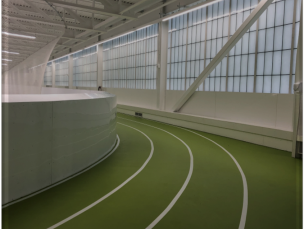 Walking Track
Our indoor track is a great place to get your exercise whether walking or running. You will enjoy the bright, spacious, safe and comfortable environment to achieve your fitness goals.
Bring your lock and leave your belongings in our complimentary lockers and enjoy your workout.
We ask that children under 12 years of age be accompanied by an adult, strollers and wheelchairs are welcome.
Please bring with you clean indoor shoes to help us protect this lovely exercise space for years to come.
Walking Track COVID-19 Procedures
Participation on the walking track is by appointment only. Please call 705-932-2911 to book.
Bookings are permitted Monday to Friday 8:00 a.m. to 2:00 p.m.
Appointments will be booked on the hour with 45 minutes time allotted for walking.
Entrance will be permitted at the East main door 10 minutes prior to the booking time.
To assist with contact tracing all walking track participants will be required answer pre-screening questions prior to entering walking track.
Personal belongings will not be permitted with the exception of a water bottle.